News from Dark Troll Festival
---
News Message from 04.06.2023
Midnight Odyssey @ Dark Troll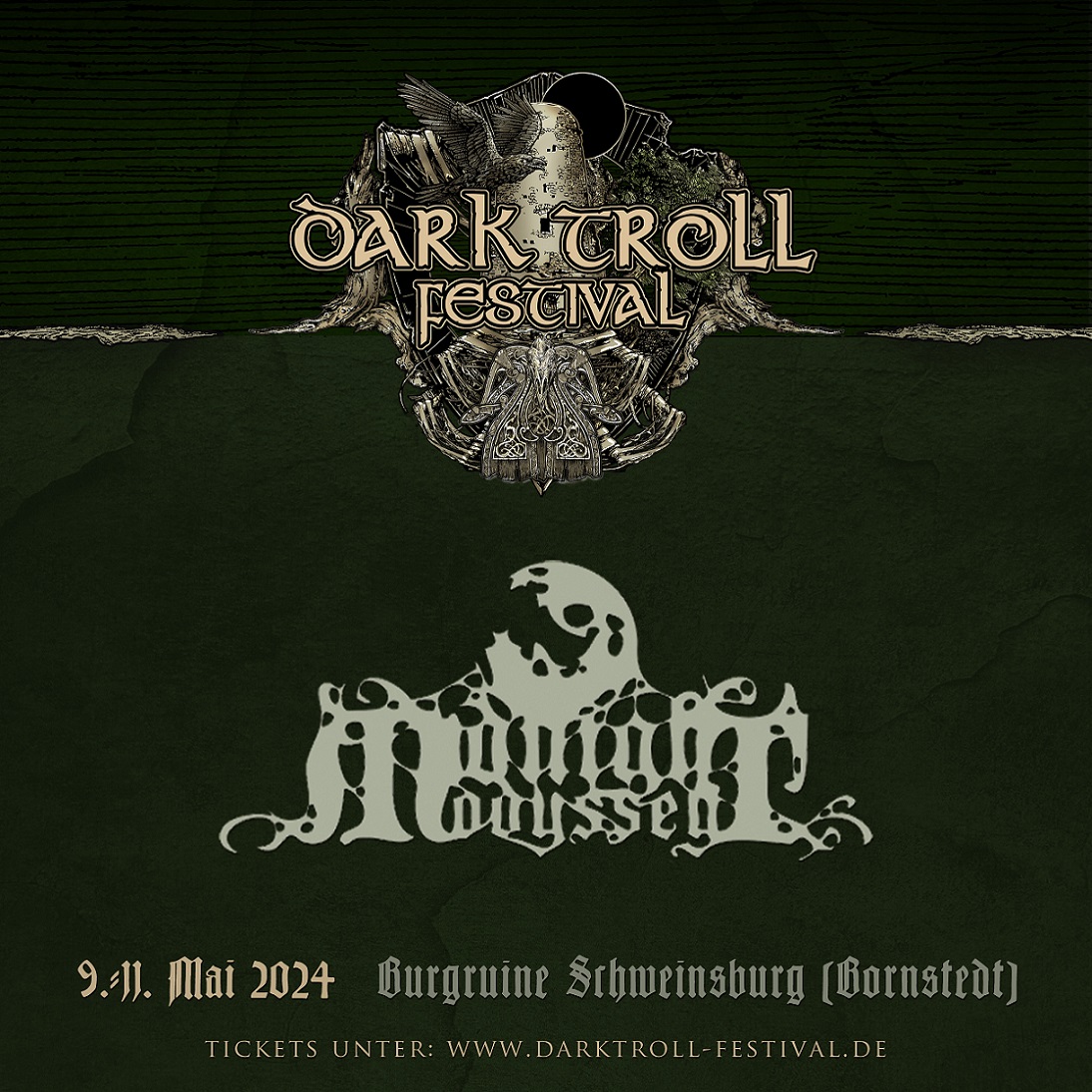 We want to start slowly with the line up for 2024.
Next year's Men's Day will be on May 9th, so the Dark Troll will take place from May 9th to 11th.
Those who have at this year's Dark Troll will have already spotted the first five bands. We are very honored to be able to start directly with an absolute highlight.
Midnight Odyssey from Australia will play their very first show in Germany at Dark Troll.
In 2007 Dis Pater founded the solo project which is influenced from a wide range of music, from black metal, doom metal, neo-classical and dark ambient music, electronic music, classical/early music and folk. Mixed with themes of cosmic destruction, xenoarchaeology, and classical mythology, Midnight Odyssey has become a vessel that explores the outer reaches of humanity's obsessions with space and death.
Here is a song of their first album: https://www.youtube.com/watch?v=4om9u8byZjY&ab_channel=MidnightOdyssey-Topic
---
News Message from 25.04.2023
Running Order Saturday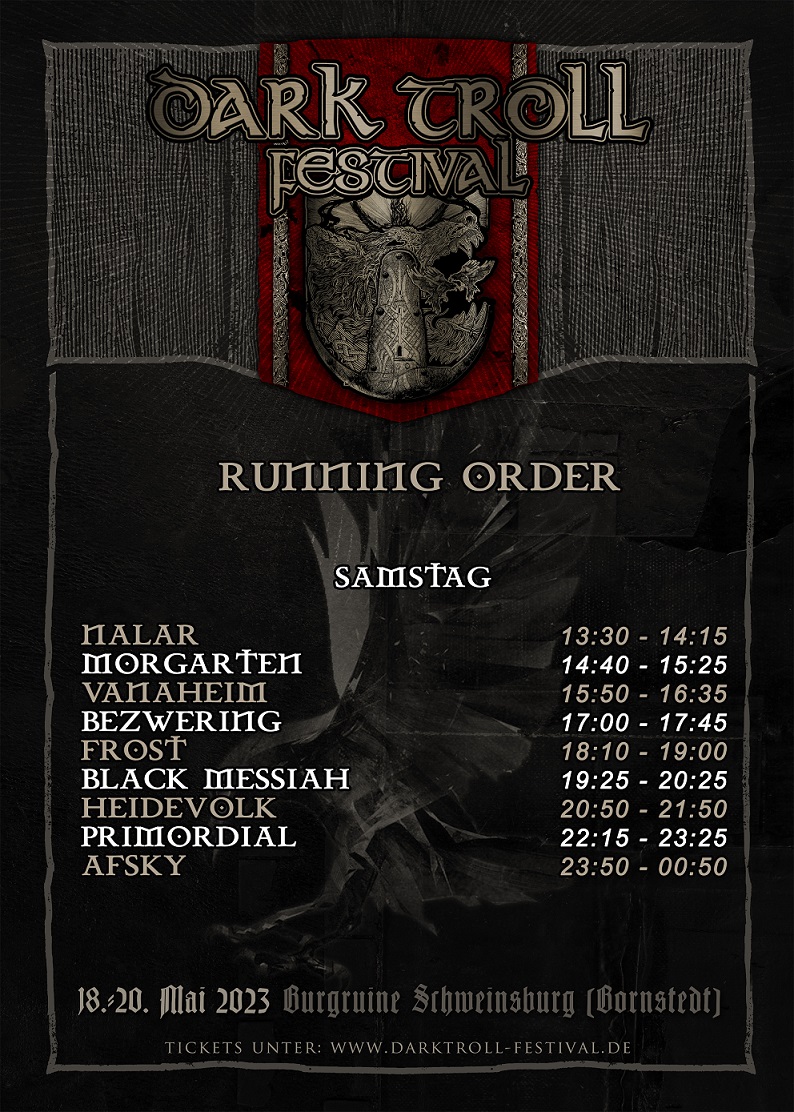 Around three weeks left, then it's finally time again for the party of the year!
Here as promised the running order for Saturday!
And on Thursday you'll get a complete overview
---
News Message from 25.04.2023
Running Order Friday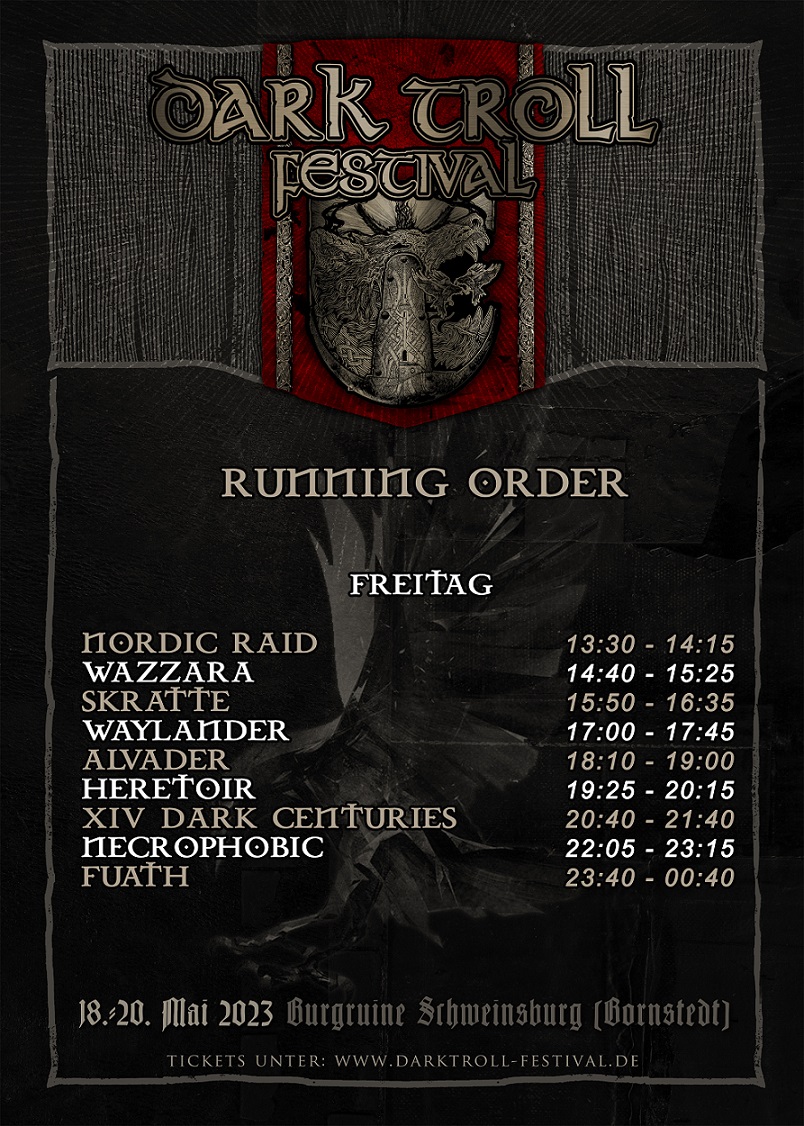 As promised here's the running order for Friday!
Tuesday evening we will post the Running Order for Saturday.
Gladly we mention again for those who have not read it last time. Yes there will be day tickets.
More about this in the coming week.
---
News Message from 21.04.2023
Running Order Thursday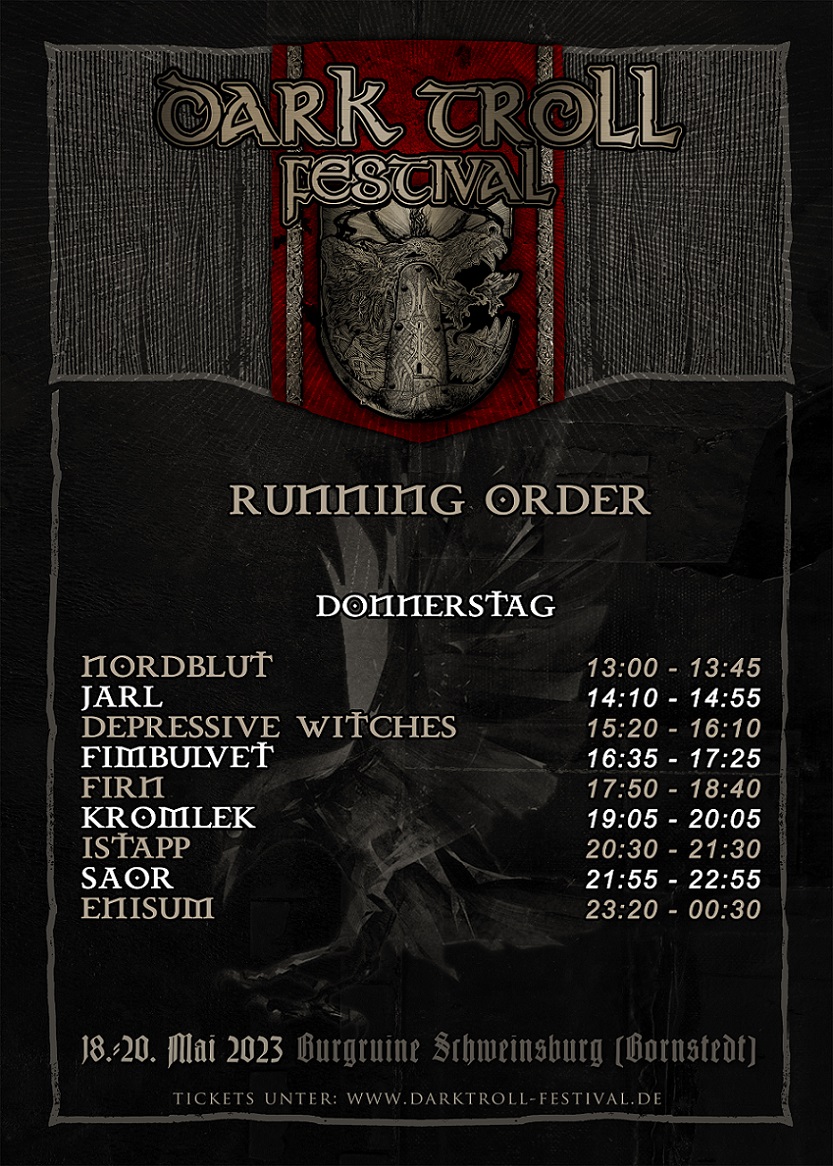 Surprise! Every two days, starting with today, we will reveal a part of the running order. At the end, for all those who prefer it, there will be a complete overview of all days.
Do you like the plan for Thursday?
PS: There will be day tickets. More about that when we are done with the running order.
---
News Message from 19.04.2023
Complete Flyer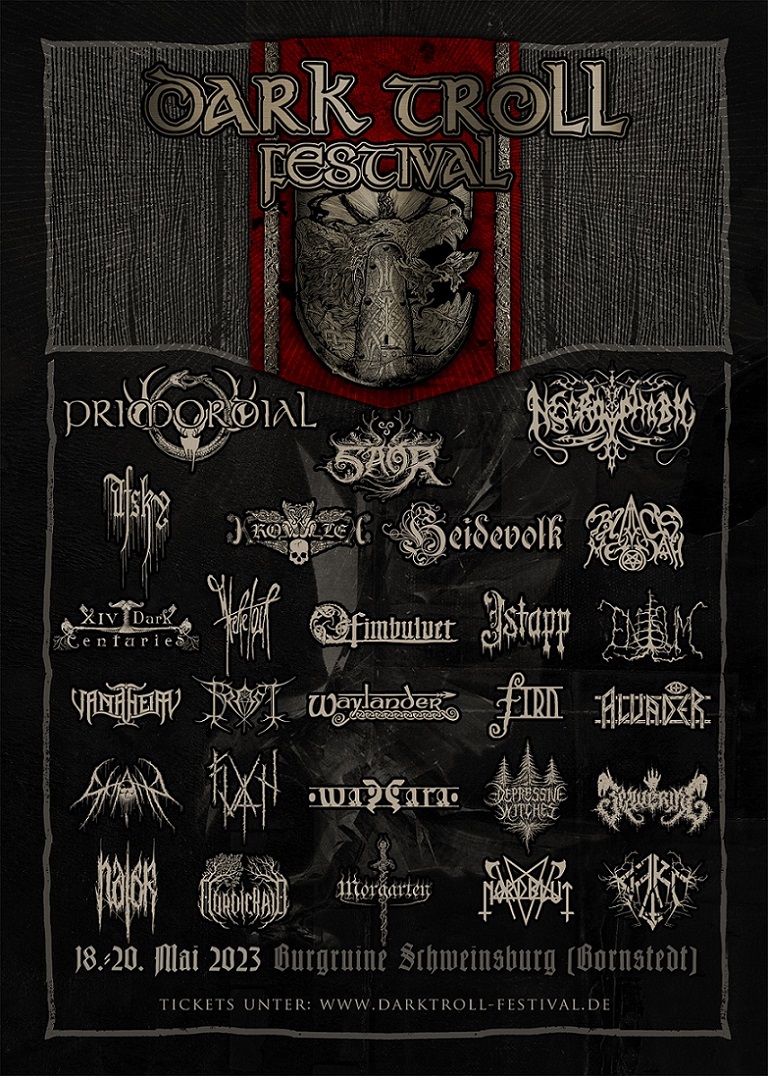 Here is the final flyer!
For any sharing we would be more than grateful, because we still have a few remaining tickets.
This week we will follow up with an info summary from last week's live stream with Kelly and then the running order will be coming soon.
---
News Message from 16.04.2023
Heidevolk @ Dark Troll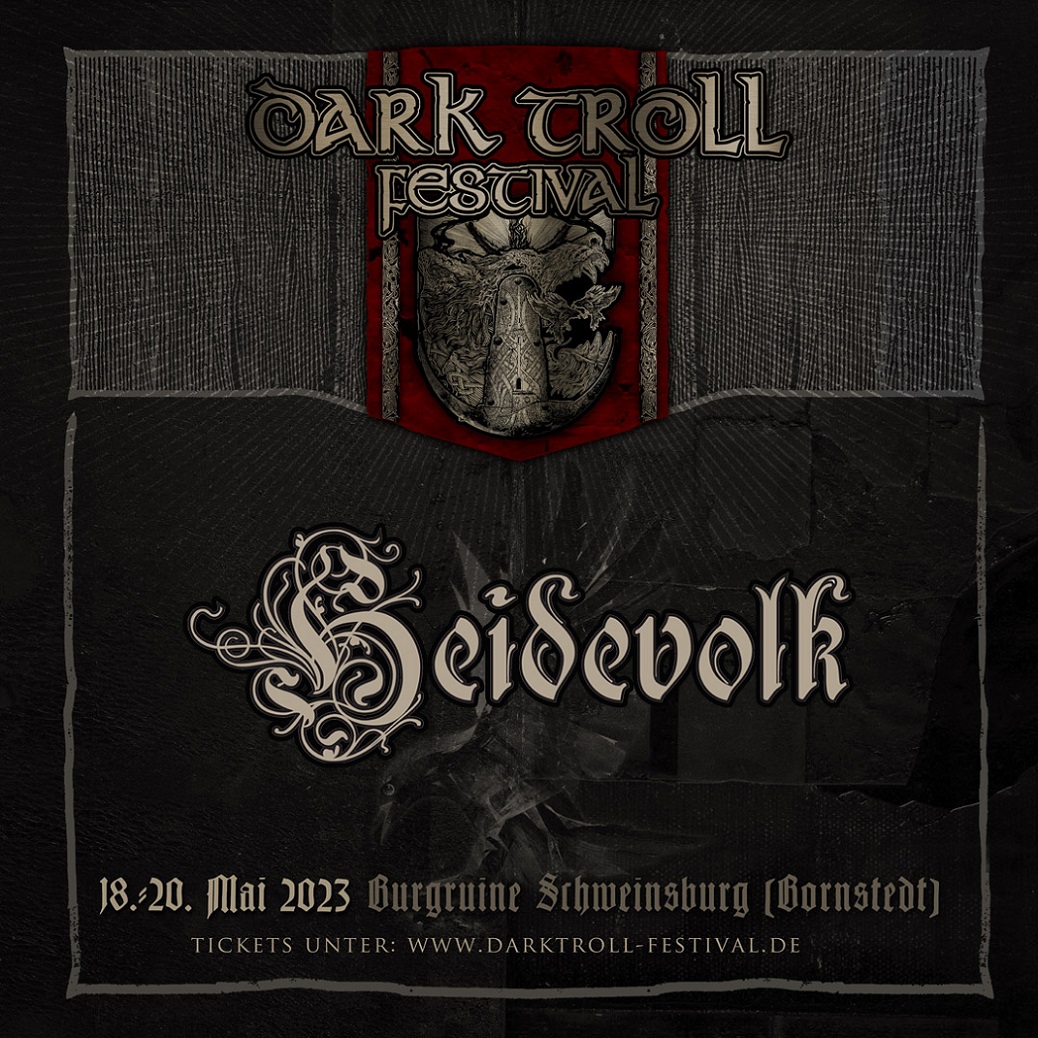 We don't know how, but somehow we survived Ragnarök and returned to our homes safe. We hope that this is also the case for you.
However, during the Battle of the Gods, Hugin and Munin whispered to us that with the following band, the Battle of Bornstedt's Castle Ruin is complete and we can now devote ourselves completely to the final preparations.
After more than nine years of abstinence it is urgent that the men around Heidevolk join the epic battle again and support us with their musical performance in the fight for the Schweinsburg.
Founded in 2002, the band from the Netherlands, or more precisely Gelderland, has released seven albums to date and toured all over Europe and America.
Their latest album "Wederkeer" was released in February this year and is just waiting to be presented live.
Here is a sample of the mentioned new album: https://www.youtube.com/watch?v=ZhKBz4-CcWY&ab_channel=NapalmRecords
---
News Message from 09.04.2023
Nordblut @ Dark Troll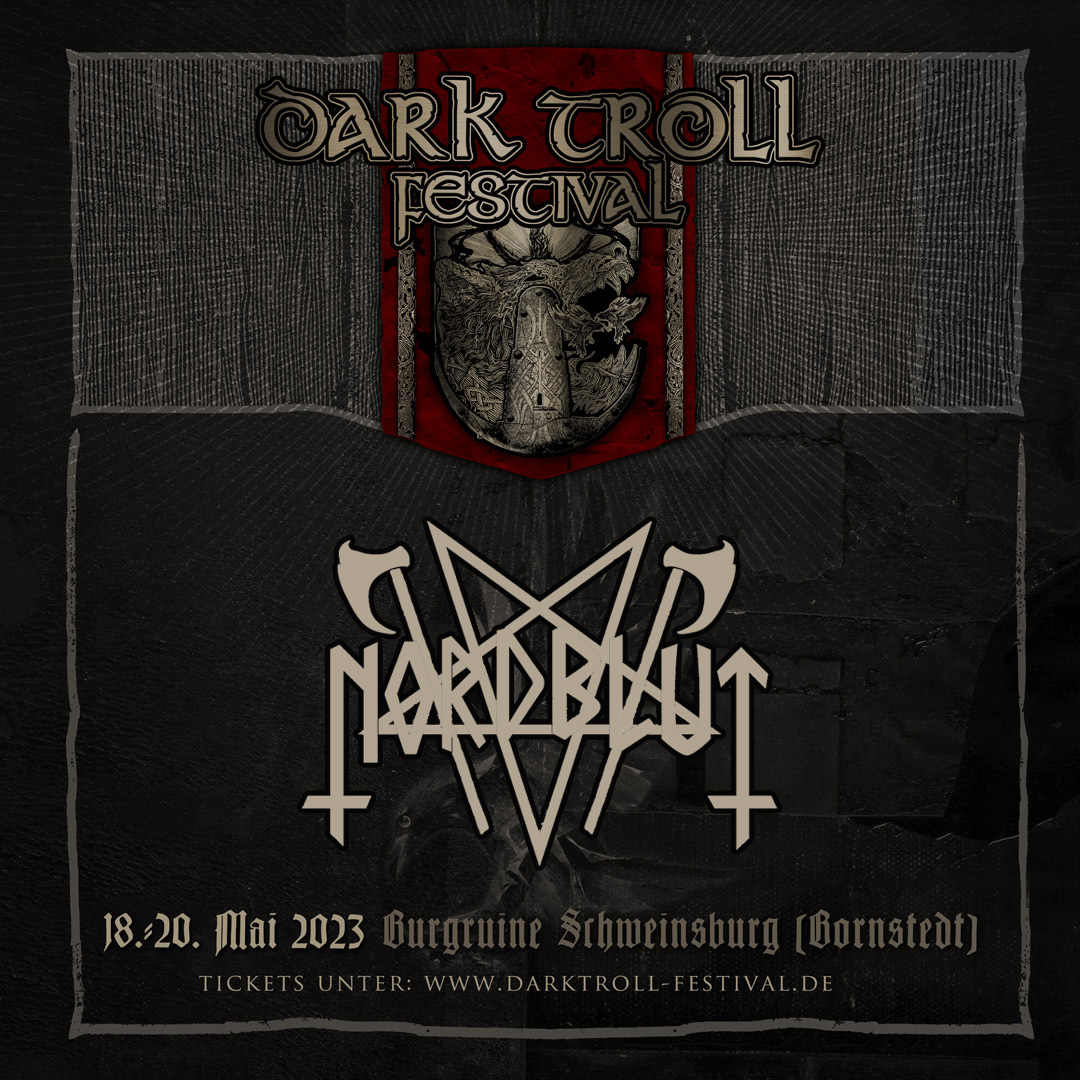 You guys are crazy with your participation in the voting. Thank you for 910 participants at the voting.
Unfortunately we had to evaluate a few things, because some people wrote the bands names wrong or wrote everything in capital letters, etc. The program had a few problems with evaluating the results.
However, we are happy to be able to fulfill your wish with the voting winner (yes, we know that the bands also encourage their friends and acquaintances to vote, but still, so much ambition must be absolutely rewarded).
And that's not all, the band is also celebrating their first Germany Show ever, joining Frost (H) and Wazzara (CH) which also celebrate their Germany Debut.
The Austrian pagan metallers Nordblut, celebrated their live debut as well as their first album last August and we hope you give the newcomers a warm welcome at the castle ruin.
Here is a song from their album "Av liv og kamp": https://www.youtube.com/watch?v=2P4DpgzhQnE&ab_channel=Nordblut
---
News Message from 26.02.2023
Nalar @ Dark Troll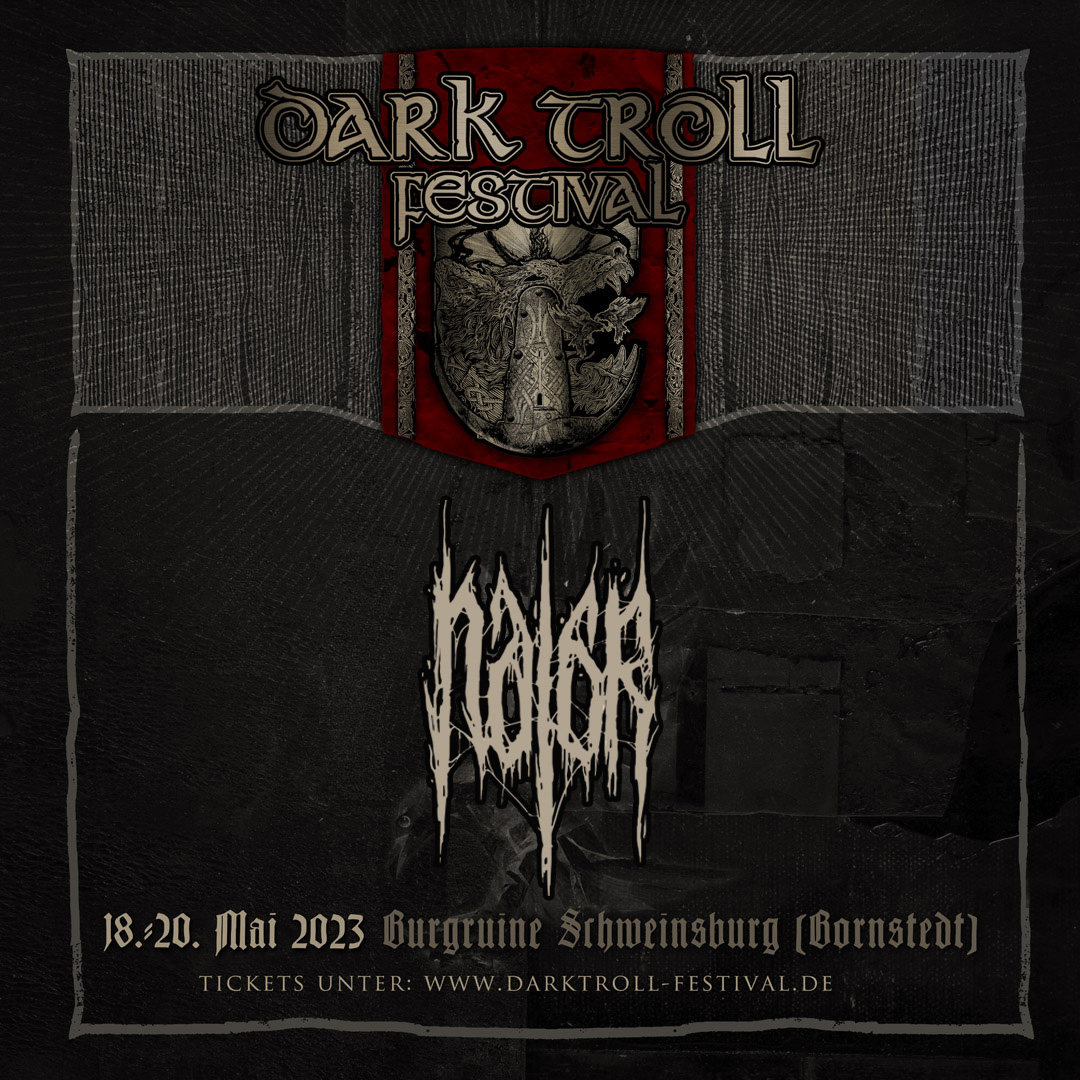 Today we are happy to present you one of the last two bands.
The black and death metal band from our capital has already picked us up live a few times with their music and therefore it was only a matter of time until we wanted to experience exactly that at the castle ruin.
The influences of all participants are as diverse as the thematic outpourings of the singer, who sinks into the music with a completely unique vocal delivery and live performance. Their extraordinary performance paired with German lyrics let every cliché of metal left completely untouched.
Hopefully you're just as into NALAR as we are!
Here is a song of the band:
https://www.youtube.com/watch?v=GPdpEDzJyaM&ab_channel=NALAROfficial
---
News Message from 26.02.2023
Wazzara @ Dark Troll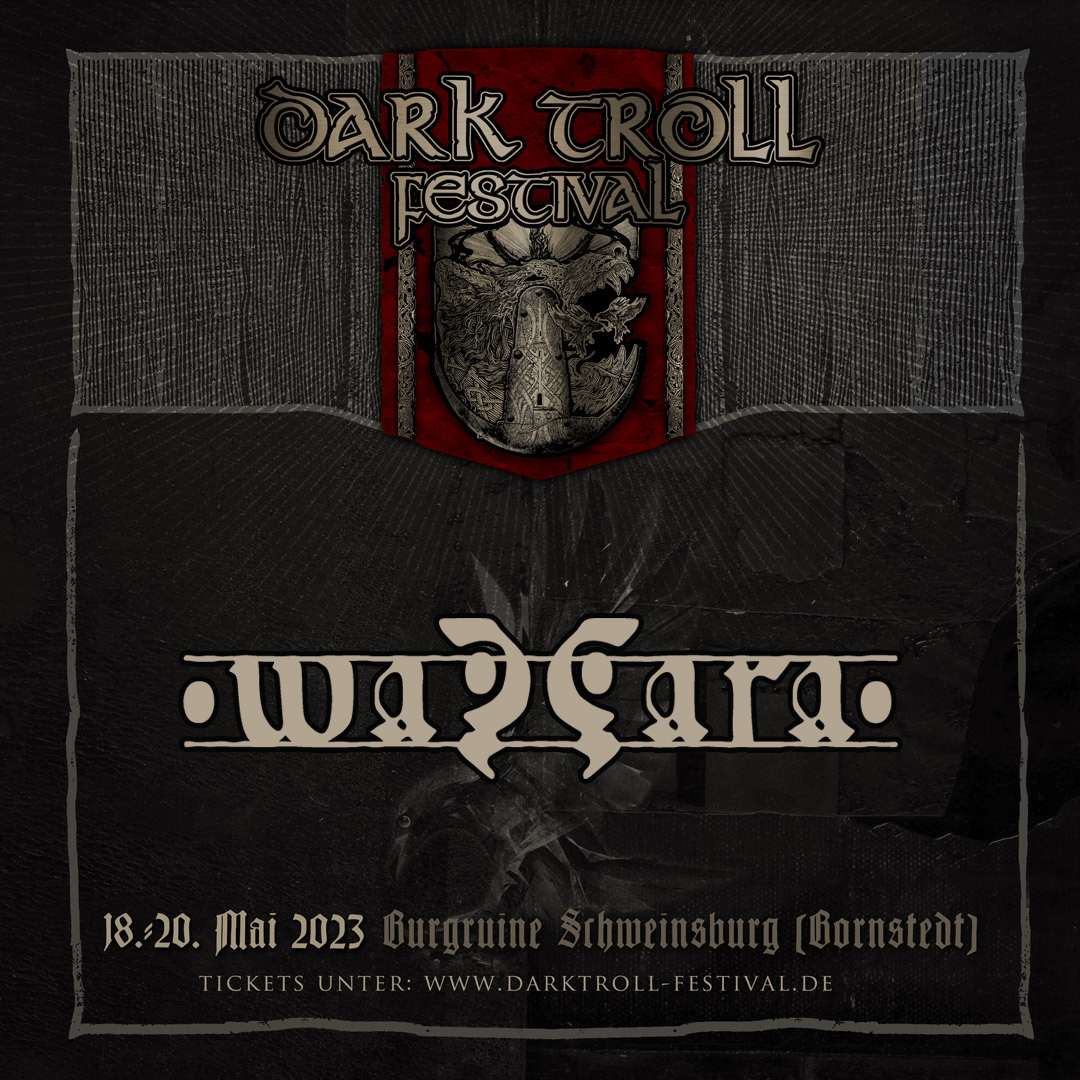 Today we are happy to present you another band.
They're also joining Frost, who are both playing their first show in Germany!
Frontwoman Babs and guitarist Mäsi are no strangers to us, as they have played with their former band Caladmor in 2014 at our castle. Since then, the contact has remained and all the more we are happy to welcome her again after so many years. In addition, we are of course happy to meet the rest of the band!
Let yourself be transported to an enchanted forest scene, draped in twilight. Moonshine permeates the boughs above, casting your surroundings into undulating shades of bright silver and haunting dark, rippling shadows dance along as the music enfolds you, pulling you into the arms of the waterborn, of wazzara.
Wazzara combines post-metal, doom and blackgaze. Dreamy and ecstatic at the same time, the Swiss band weaves hypnotic riffs into melancholic, gloomy and ethereal soundscapes.
Here is a song from the album "Cycles": https://www.youtube.com/watch?v=8MA11OIce0Q&ab_channel=wazzara
---
News Message from 15.01.2023
Flyer Update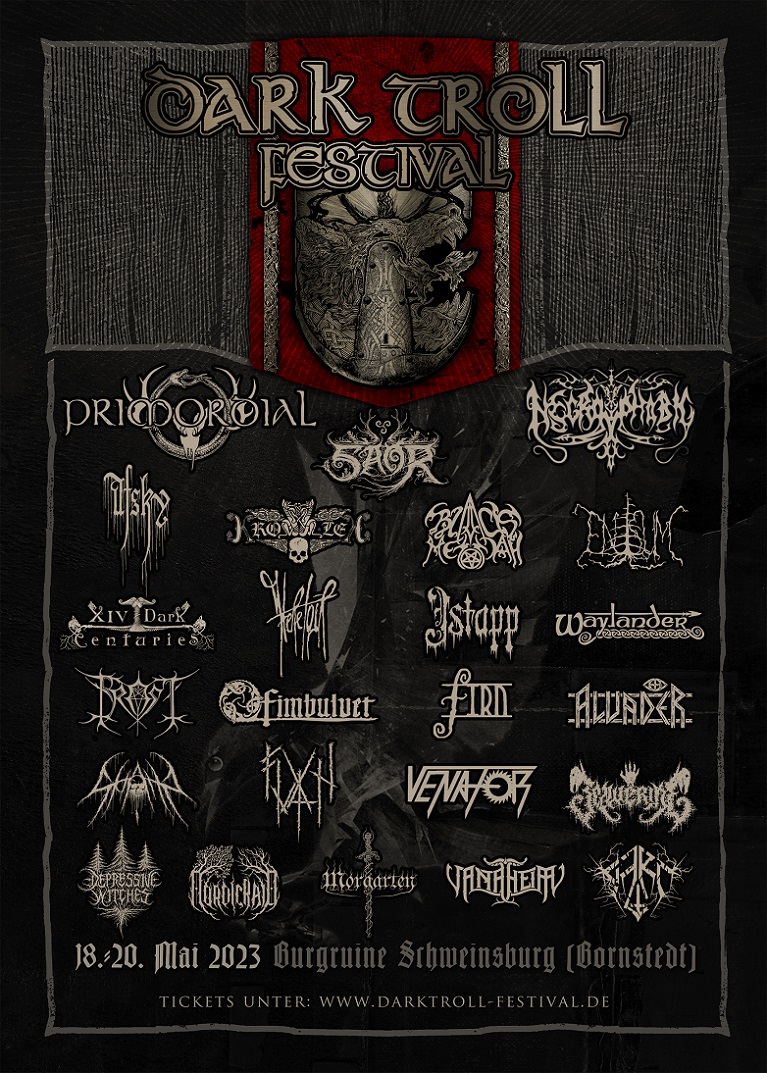 We still have a few spots open, but unfortunately we can't present you a new band today.
But we have updated our fancy flyer with all confirmed bands!
Primordial
Necrophobic
Saor
Afsky
KrOMleK
Black Messiah
Enisum
XIV Dark Centuries
Heretoir
Istapp
Waylander
Frost
Fimbulvet
Firn
Alvader
Skratte
Fuath
Venator
Bezwering
Depressive Witches
Nordic Raid
Morgarten
Vanaheim
Jarl
---