News from Dark Troll Festival
---
News Message from 06.03.2022
Belore @ Dark Troll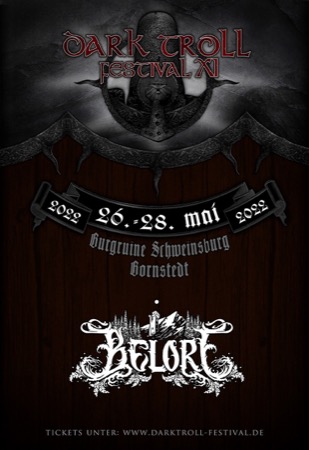 We are happy to present you the first of four replacement bands.
You can believe us when we say that this one is a real gem!
The French solo project of Aleevok was launched in 2019 and has already released two albums.
With their Epic Atmospheric Black Metal they create a world where landscapes, magic and medieval history exist side by side.
We are happy that Belore joins the batch of bands playing their first German concert at our beautiful festival \m/.
---
News Message from 06.12.2021
Spectral Wound @ Dark Troll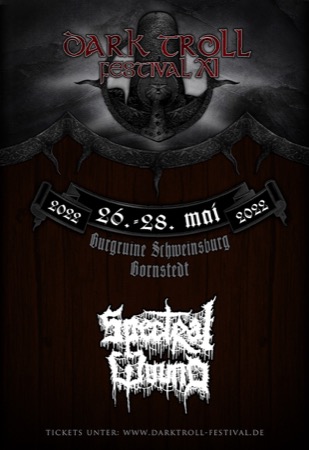 We hope that you have a nice pre Yule Tide and wanted to pack you today also again a surprise in your hopefully cleaned boots.
The one or the other has surely still on the screen and knows that one band is still missing to complete the Dark Troll Line Up. Well what can we say, from now on it is complete again and we hope that it can finally take place in May with all planned bands.
For the first time ever we can welcome a band from Canada at our castle ruin! The band was founded in 2015 and has already released three great albums.
They play unadulterated and unadorned black metal. Against the grain of both the atmospheric and militaristic trends of the genre, they carves a space beyond the fetish of nature or the romance of power. Without God, without Satan, without Odin, without nation, without transcendence, without essence. They channel the horrors of the flesh and the violence of the spirit, deformed under the weight of history, poised on the brink of a whirling void.
Join us in looking forward to Spectral Wound from Montréal!
---
News Message from 05.12.2021
EU-Tour September 2022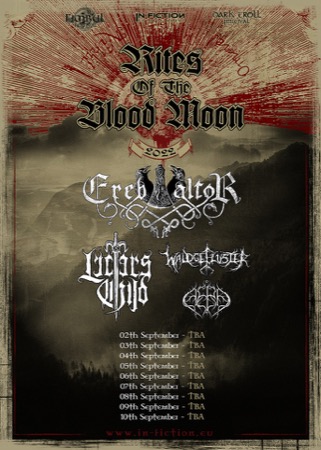 Here comes the next big announcement from In Fiction Entertainment.
Get ready for an massive unholy, atmospheric EU tour in September 2022.
Headliner:
Ereb Altor who will release their new album "Vargtimman" on January 14th and headline an EU tour for the first time ever. You can expect new songs as well as some classics, which you should not miss.
Special Guests:
Our roster band Lucifer's Child, which will release a new split CD "Under Satan's Wrath" on March 25th and will surely present one or the other new song.
Supportbands:
Also from our roster Waldgeflüster, who have just released their new sensational album "Dahoam" with which they have stirred up the German album charts.
And last but not least also from our roster ÄERA, who are just burning to finally unleash their full potential on humanity. They bring their 2019 released debut & and the EP "Schattenfall" which was released this February.
The tour will take place mainly in Central Europe, starting on September 2nd and ending on September 10th. The first dates are already set and we hope to present you the full tour dates in January.
Are you up for it? Where would you like to see the package live?
PS: Tomorrow evening you should check out the Dark Troll Festival and visit the Facebook page again ;) \m/
---
News Message from 21.11.2021
Shop Update
We have updated our shop https://shop.in-fiction.eu/ a bit and added the remaining stock from Fimbul and Simson Festival.
Keep your eyes and ears open for more news from In Fiction Entertainment!
---
News Message from 13.05.2021
Special Shirt Design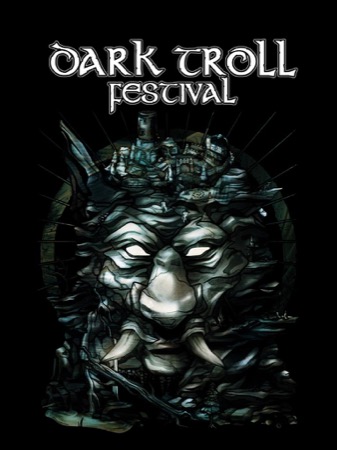 Actually, the first bands would be playing right now and we would have a great time together. It really hurts to not be able to celebrate Dark Troll for the second year in a row...
But as a consolation and as already announced, we want to offer a special shirt like we did last year, which you can order in our shop soon.
A big fat thank you for the front design goes to Wolfenmond Art. Have a look at her page and give it a like \m/.
Also a big thank you to Shelter Design Studio for the postproduction and the backprint.
We have another request and would be happy about your participation.
Would you like to have another Facebook Live Chat on Sunday, like we did almost exactly a year ago?
If so, would you rather do it in the afternoon or in the morning?
---
News Message from 09.05.2021
Updated Flyer Dark Troll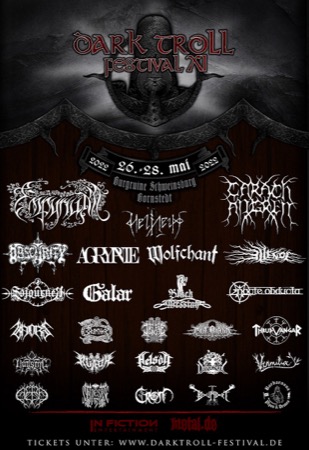 Good evening everyone and Happy Mother's Day to all the mommies out there! \m/
Here is the complete updated flyer with all confirmed bands on it, including Totenwache.
Unfortunately we don't know yet if Our Survival Depends On Us will be able to make up their show.
If not, we will find a replacement band.
Keep your ears up and stay healthy!
---
News Message from 02.05.2021
Totenwache @ Dark Troll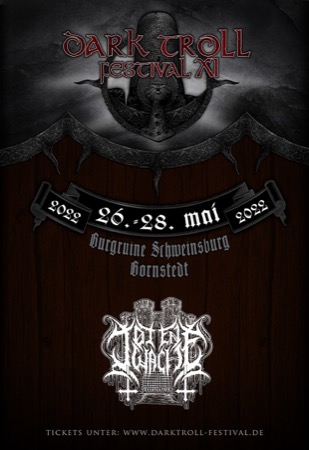 Yes Yes Yes!
At least we got some consolation for the fact that we had to postpone for the second time.
When we had to postpone the festival to 2021, two confirmed bands unfortunately had to cancel because one would have had a gig at the same time and the other in the immediate vicinity shortly after.
In the case of the band where both shows were to take place on the same day, this is no longer the case in 2022, so that the band can play both shows without any problems.
We are happy that Totenwache will be on board again in 2022.
---
News Message from 25.04.2021
Updated Flyer Dark Troll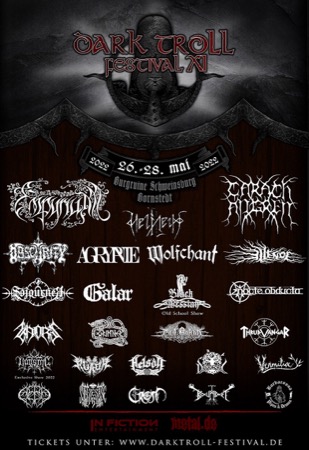 Updated Dark Troll flyer with the new date for 2022.
Two replacement bands for Totenwache and Our Survival Depends On Us still to follow.
---
News Message from 24.04.2021
Update Dark Troll Festival
Now it is official, the Dark Troll Festival has to be postponed again...
We are more than saddened, but the high incidence numbers make it legally impossible to hold an event like the Dark Troll.
In addition, many bands have already had to cancel in advance because they cannot enter Germany, could not rehearse, curfews prevail, etc.

Nevertheless, we do not give up hope and would like to try keeping each planned band for a 2022 edition.
The date is, as every year, on a public national holiday, which next year falls on May 26 - 28.

We wish you a nice weekend.
Stay healthy and let us hope together for 2022!
---
News Message from 12.03.2021
In schweren Zeiten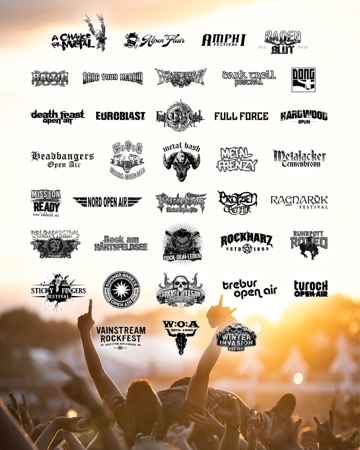 Dear fans, and friends of our festivals,
"In Union We Stand" - the much-praised OVERKILL slogan is more relevant today than ever.
The past weeks and months have once again shown how much the metal family stands together. The incredible support you show towards all of our festivals has given us strength and courage in challenging times and continues to do so.
We, the organizers, have also moved closer together and have come together throughout Germany for a regular exchange. We are in the starting blocks to bring our festivals to live in the best possible way, as soon as the opportunity arises. Because the summer of 2021 is not lost yet!
Should there be festival cancellations, we ask you for your solidarity with the affected festivals, because this solidarity is still urgently needed.
A healthy music scene needs a diverse live scene - at the moment this is still the case in Germany. No matter if mainstream or underground, our festival landscape offers the right setting for every band and every fan. This is very important, but the pandemic threatens this diversity heavily.
We as festival organizers stick together and hope for your ongoing support!
Thank you for standing by our side - without you we would be nothing!
A Chance For Metal
Alpen Flair Festival
Amphi Festival
Baden in Blut
Baltic Open Air
Bang Your Head!!!
Boardstream Open Air
Dark Troll Festival
Death Feast Open Air
Dong Open Air
Euroblast
Eventzentrum Strohofer
Fimbul Festival
Full Force
Hardwood Open
Headbangers Open Air
M.I.S.E. Open Air
Metal Bash
Metal Frenzy
Metalacker
Mission Ready Festival
Nord Open Air
Party.San Open Air
Protzen Open Air
Ragnarök Festival
Reload Festival
Rock am Härtsfeldsee
Rock dein Leben
Rock Harz
Ruhrpott Rodeo
Sticky Fingers
Summer Breeze Open Air
Summer Invasion Festival
Trebur Open Air
Turock Open Air
Vainstream Rockfest
Wacken Open Air
Winter Invasion
---